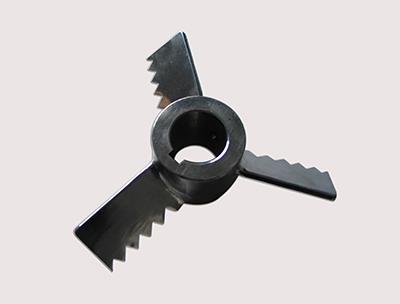 Add to Favorites
Share
Pitch Blade
Payment

Origin

China Mainland

Minimum Order

15

Packing

Pieces
Product Detail
If you are looking for China and Chinese high quality heavy duty stainless steel pitch blade from professional pitch blade, pitched blade impeller, pitched blade turbine, pbt agitator manufacturer, factory and supplier, please feel free to contact Ruixu Mixing Equipment Co.,Ltd.

PITCH BLADE TURBINE

INTRODUCTION:

The simple design of the Pitch Blade Turbine impeller provides a combination of both radial and axial flow.

The Pitch Blade Turbine is usually inclined at an angle of 45 degree. Constructions are with two to eight blades while three and four being most common.

They provide both moderate shearing level and moderate flow level, handling moderate viscosity mixing up to 10,000 cps. These impellers can be used in either down-pumping or up-pumping mode.

TYPICAL APPLICATIONS:

While useful in most applications, Pitch Blade Turbines are widely used in heavy duty mixing because they are very cost effective due to the simple design; especially effective for heat exchange with vessel walls or internal coil.



5
YRS
Jiangsu Ruixu Mixing Equipment Co., Ltd
China
Favorites