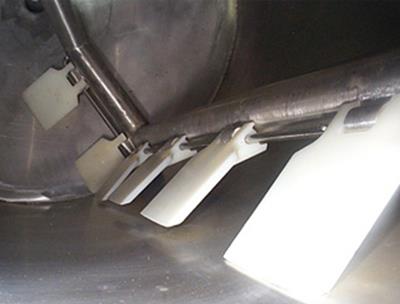 Add to Favorites
Share
Anchor And Gate
Payment

Origin

China Mainland

Minimum Order

15

Packing

Pieces
Product Detail
If you are looking for China and Chinese high quality heavy duty stainless steel anchor and gate from professional anchor and gate, anchor mixer, frame agitator, gate agitator manufacturer, factory and supplier, please feel free to contact Ruixu Mixing Equipment Co.,Ltd.

ANCHOR AND GATE

INTRODUCTION:

Anchors & Gates are close-clearance impellers that fit the contour of the container.

Wall scrapers can be mounted on the Anchor & Gate impeller blades to improve heat transfer with the wall and prevent sticking of pasty materials.

Anchors & Gates obtain adequate mixing under the laminar flow conditions encountered in high viscosity applications. These impellers sweep the whole wall surface of the vessel and agitate most of the fluid batch through physical contact.

TYPICAL APPLICATIONS:

Anchor & Gate impellers are used for liquid viscosities between 5,000 and 100,000 cPs. Typical applications include ink, paint, sauce, adhesive, cream, etc. There are many applications that other agitators are integrated with the Anchors & Gates.



5
YRS
Jiangsu Ruixu Mixing Equipment Co., Ltd
China
Favorites