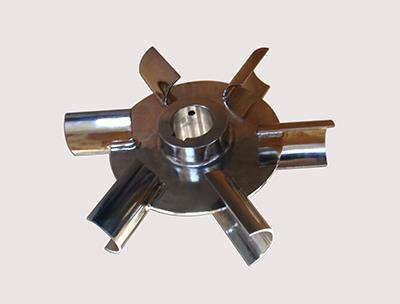 Add to Favorites
Share
Rushton Impeller
Payment

Origin

China Mainland

Minimum Order

15

Packing

Pieces
Product Detail
If you are looking for China and Chinese high quality heavy duty stainless steel rushton impeller from professional rushton impeller, rushton turbine manufacturer, factory and supplier, please feel free to contact Ruixu Mixing Equipment Co.,Ltd.

RUSHTON

INTRODUCTION:

The Rushton impeller, named after its designer, is one of the first mixing impeller designs to be documented. The flow generated by a Rushton impeller is discharged radially outward to the vessel wall with half the flow directed upward, and half the flow directed downward.

Rushton impellers have four or six vertical blades, equally spaced around a disk. The new generation is with backswept curved blade. The curved blade prevents material buildup on the blades and has highest gas dispersing capability available.

Rushton impellers are used for low to medium viscosity fluids.

TYPICAL APPLICATIONS:

Although Rushton impellers can be used for any type of single- and multiple-phase mixing duty, they are most effective for gas–liquid and liquid–liquid dispersion and provide higher shear and turbulence levels with lower pumping. With suitable baffles these flows are converted to strong top-to-bottom flows both above and below the impeller.



5
YRS
Jiangsu Ruixu Mixing Equipment Co., Ltd
China
Favorites