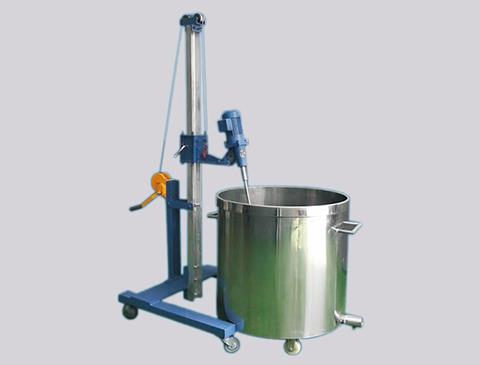 Add to Favorites
Share
Light Duty Agitator
Payment

Origin

China Mainland

Minimum Order

15

Packing

Pieces
Product Detail
If you are looking for China and Chinese high quality heavy duty stainless steel light duty agitator from professional light duty agitator, light duty mixer, portable agitator, portable mixer, drum mixer, portable tank mixers manufacturer, factory and supplier, please feel free to contact Ruixu Mixing Equipment Co.,Ltd.

LIGHT DUTY AGITATOR

INTRODUCTION:

Light Duty Agitators, or so-called Portable Agitators & Mixers are designed to work with small tanks, drums, IBC tanks, or barrels. Motor size is from 0.37kW to usually less than 5.5kW. The speed is from 50rpm up to several hundreds. They are usually connected to the tank by a base plate, by clamping it onto the tank, or by a lifting stand.

Light Duty Agitators are easy to install and disassemble, and can be moved with high flexibility, thus they are also called Portable Agitator. RIXU offers standard Light Duty Agitators of several sizes to meet different demands in the market.


IMPELLER TYPES:


Many types of impeller are available for the Light Duty Agitators & Mixers, depending on the processing requirement, such as propeller impeller, high efficiency type, Rushton turbin. Besides, foldable impellers are very popular for IBC tanks.

SPECIFICATIONS:


Light Duty Mixers are usually with relatively low power, from 0.25kW to 4kW. Standard power supply is 380V, 3ph, 50Hz, but RIXU also supplies special voltage from 110V to 480V, and for 50/60Hz.

APPLICATIONS:


Light Duty Mixers are commonly seen to handle small volume of tanks and drums. They are used in painting, chemical, food, beverage and cosmetics a lot.



5
YRS
Jiangsu Ruixu Mixing Equipment Co., Ltd
China
Favorites