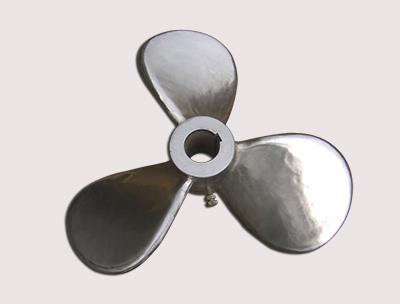 Add to Favorites
Share
Marine Propeller
Payment

Origin

China Mainland

Minimum Order

15

Packing

Pieces
Product Detail
If you are looking for China and Chinese high quality heavy duty stainless steel marine propeller from professional marine propeller, propellor, propeller impeller manufacturer, factory and supplier, please feel free to contact Ruixu Mixing Equipment Co.,Ltd.

MARINE PROPELLER

INTRODUCTION:

The Marine Propeller is the most common type of mixing impeller. It is an axial flow impeller, having its design rooting in the marine propulsion industry.

Standard Marine Propellers have three blades, but they can be two-bladed, four-bladed, or encased by a circular guard. A revolving propeller traces out a helix in the fluid. One full revolution moves the liquid a fixed distance. The ratio of this distance to the propeller diameter is known as the pitch.

The Marine Propeller is often used with direct drive operating at relatively high speeds (up to 3,000rpm) with low viscosity fluids (up to about 4,000cP).

TYPICAL APPLICATIONS:

Marine Propellers are often used in a side entry mixer in large tanks and a top entry mixer in small tanks. They are used for blending, solid suspension, solid incorporation or draw down, gas inducement, and heat transfer.



5
YRS
Jiangsu Ruixu Mixing Equipment Co., Ltd
China
Favorites